Stouffville Tire and Wheel offers tire storage in Stouffville. We offer on-site climate controlled storage which is fully insured and inventoried. Reduce clutter in your garage, save time and hassle of transporting your wheel and tire assemblies, Stouffville Tire stores your tires!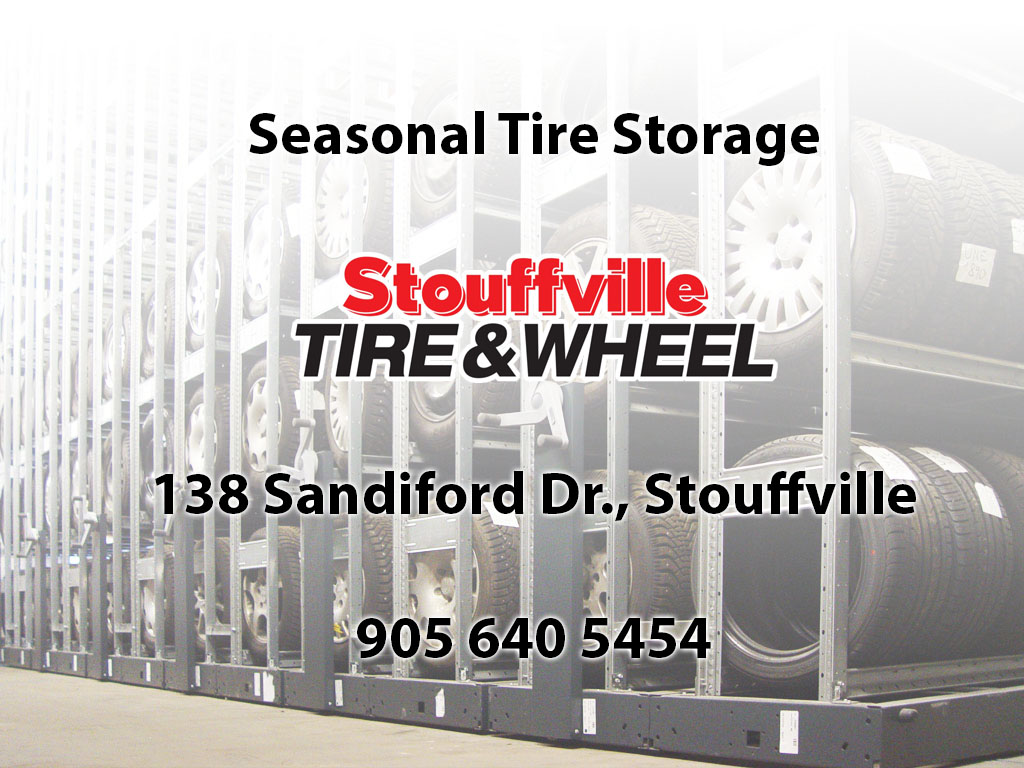 Simply let us know when you are changing your tires, that you would like tire storage. Fill out our contact information form and leave your tires and rims with us! We will ensure they are stored in a safe, weather protected, and dry area ready for your next season.
We store tires by the licence plate of the car they came from. This ensures that the right set goes back on the right car. We also maintain a database of customer information with vehicle, plate, phone number and customer name; which is also printed on hardcopy and stored with the tires on-site.
The tread and sidewall of tires are compounded to resist deterioration caused by sunlight and ozone. Nevertheless, stored tires should be protected against these and other potentially damaging conditions.
We offer tire storage in a safe and clean environment avoiding the following hazards:
Where the area is wet, oily or greasy (such as with gasoline or petroleum-based products)
Where the area is subject to extreme temperatures or direct exposure to sunlight
In the same area as an electric motor or other ozone generating sources
On black asphalt or other heat absorbent surfaces
On sand or snow covered areas
Extreme temperatures / temperature variance
We will inspect your tires and remove foreign objects, inspect them for wear and ensure the inflation is checked for next season.
Call us for your tire storage needs 905 640 5454 or drop in at 138 Sandiford Dr. Unit 1, Stouffville Ontario L4A 3S3
Legalese
The seasonal storage period covers a 6-8 month period (season) only.
If the customer misses this period then further surcharges will apply (additional season charge).
The customer must notify us that they are continuing to store past one season.
After 2 missed storage periods we (Stouffville Tire) reserve the right to dispose or sell the product without liability to recover the space and storage amount due. We will make every attempt to contact the customer before disposal, but failure to get hold of the customer after the 1 year period will not be the liability of Stouffville Tire.