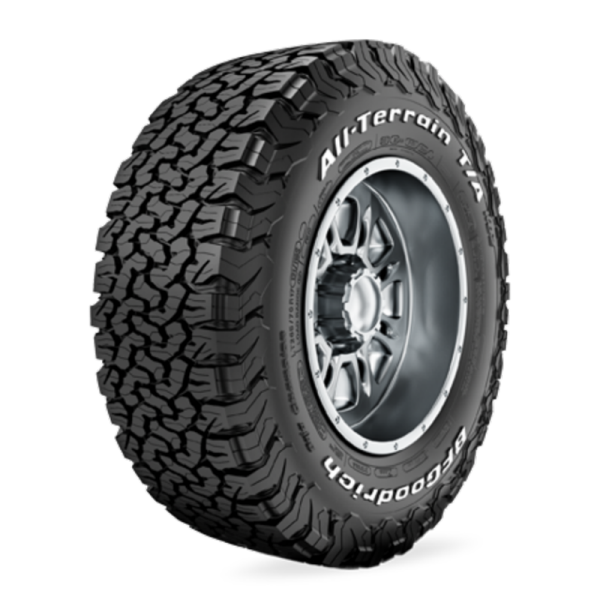 20% tougher sidewalls featuring race-proven CoreGard™ technology to take on the toughest road hazards with confidence.1 CoreGard™ technology – Tougher sidewall rubber: Split and bruise resistant sidewall rubber, derived from BFGoodrich®'s race-proven Baja T/A® KR2 tire. Thicker, extended shoulder rubber: Increased rubber thickness, extending down the sidewall to protect more of the critical sidewall failure zone. Advanced deflection design: Computer-predicted object path design deflects protruding objects from snagging and splitting the sidewall.
2X the treadlife on gravel and 15% longer treadlife on asphalt to extend your adventure.2 Specially formulated tread rubber: Optimally blended to reduce chip and tear for superior gravel road endurance. Advanced tire footprint shape: Results in more evenly distributed stress for longer more uniform wear. Interlocking tread design: Increases tread block stability for more even wear over the long haul. Stone ejectors: Prevent stone retention and provide extra tread clean-out protection against stone drilling.
10% more mud traction and 19% improved snow traction: exceeding TRAC severe snow traction performance requirements to confidently get where you want to go. Side biter lugs: Protruding sidewall rubber blocks provide increased mud, snow and rock traction, especially in aired-down driving situations. Mud-buster bars: Raised bars in the shoulder tread area help release compacted mud for enhanced traction in muddy and soft soil conditions. Serrated shoulder design: staggered shoulder blocks that provide greater maneuverability in soft soil and deep snow conditions. Locking 3-D sipes: 3-D active sipe technology provides more biting edges for significantly increased snow traction. Meets Tire and Rubber Association of Canada (TRAC) requirements for severe snow traction.
Extraordinary Off-Road Performance. What it is: A combination of outstanding off-road traction, robust construction and aggressive aesthetics that provide race-proven performance. Who it's for: 4WD enthusiasts who want the latest in top off-road performance
COREGUARD™ Technology

Tougher sidewall rubber compound derived from BFG race proven Baja T/A® KR2 tire*
Thicker, extended shoulder rubber*
Advanced deflection design

* Compared to current BFGoodrich All-Terrain T/A® KO
Exceptional Treadlife

Specially formulated tread rubber
Interlocking tread design
Stone ejectors

Internal Toughness

Two strong steel belts with one full-with nylon cap ply
Durable bead construction

Improved Traction

Side-biter lugs and mud-phobic bars
3D sipes
3 Peak Mountain Snowflake rating
Passion, pride and performance are BFGoodrich® values that have stood the test of time. As a maker of superior performance tires, we're proud to say we've been passionately performance-driven since the beginning.
It's what led us on the pursuit of creating truck tires tough enough to tackle some of roughest terrain on the planet, yet still maintain excellent road manners. That's why more champions of the grueling SCORE Baja races have won with BFGoodrich® tires and why the tire with more rock crawling victories bears the BFGoodrich® name.
BFGoodrich®'s performance prowess doesn't stop where the pavement starts. BFGoodrich® street tires have racked up impressive accomplishments over the years — from creating the first street tire to capture the pole position at the 24 Hours of Le Mans to creating an entirely new level of street tires, the extreme performance category. So it's no wonder why top driving schools like Ford Mustang Racing School and Skip Barber High Performance Driving School, use BFGoodrich® tires exclusively.
Whatever thrill you're chasing, BFGoodrich® tires will make sure your vehicle's up to the challenge. The question is: Are you driver enough?
Shop BFGoodrich® tires with Ontario Tire Dealers Association for driving in Stouffville, ON, Markham, ON, and areas near and far.